If you want to impress your friends and family with a unique, flavorful and healthy brunch menu, try a Mediterranean-inspired spread. Using fresh fruits, vegetables, meats, and cheeses, you can create an impressive brunch that will not only taste delicious, but also look beautiful on the table. Here are some ideas to help guide you as you plan your menu.
When it comes to Mediterranean brunch catering, there are plenty of vegan catering options that can impress friends and family. For example, a vegan mezze platter could include hummus, baba ganoush, marinated olives, stuffed grape leaves, and roasted vegetables. Another option is a vegan quiche made with tofu, spinach, and sun-dried tomatoes. A colorful salad with mixed greens, cherry tomatoes, cucumbers, avocado, and a lemon vinaigrette would also be a great addition. For something sweet, a vegan fruit salad with fresh berries and mint would be a refreshing choice. With so many delicious vegan options available, it's easy to create a Mediterranean brunch spread that will satisfy everyone's taste buds!
1. Shakshuka
If you're looking for a delicious and easy Mediterranean-inspired brunch dish, consider making shakshuka. This popular dish is made by poaching eggs in a flavorful tomato sauce, and can be served with crusty bread for dipping. The beauty of shakshuka is that it's versatile and customizable – you can add in extra vegetables like bell peppers and onions, or spices like cumin and smoked paprika to suit your taste preferences. To make shakshuka, simply sauté the vegetables and spices until tender, add in the canned tomatoes and let simmer for a bit. Then make small wells in the tomato sauce and crack the eggs into them, cover and let them poach until the whites are set. Garnish with fresh herbs and feta cheese, and serve immediately. Your guests will love the vibrant colors and flavors of this delicious dish.
2. Feta and Spinach Frittata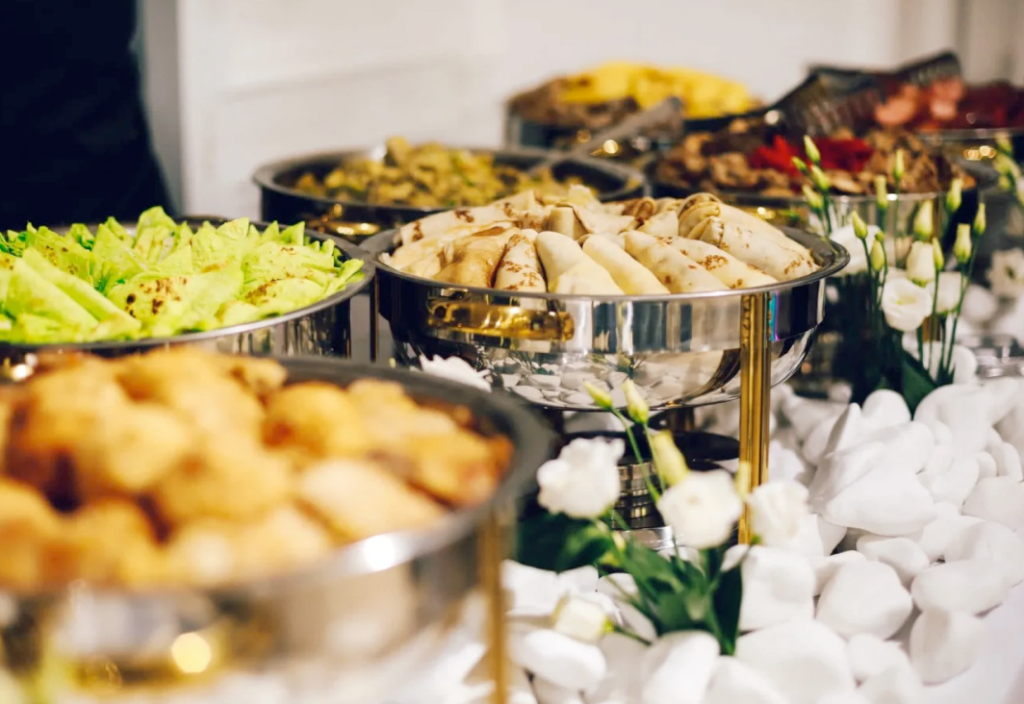 Looking for a savory and unique brunch option? Consider a Mediterranean-inspired Feta and Spinach Frittata. This dish is a twist on the classic frittata and is sure to impress your guests. The feta and spinach add a flavorful and healthy element, while the eggs provide a satisfying protein source.
To make this dish, start by preheating your oven to 375°F. In a large bowl, whisk together 8-10 eggs and 1/2 cup of milk. Add in 1/2 cup of crumbled feta cheese, 1 cup of chopped spinach, 1/4 cup of chopped fresh parsley, and 1/4 cup of chopped scallions. Stir everything together and season with salt and pepper to taste.
Next, heat a large oven-safe skillet over medium-high heat. Add in a tablespoon of olive oil and swirl it around to coat the skillet. Pour in the egg mixture and let it cook for 2-3 minutes, until the edges start to set.
Transfer the skillet to the oven and let the frittata cook for 12-15 minutes, or until the eggs are set and the top is golden brown. Remove from the oven and let it cool for a few minutes before slicing and serving.
You can serve this Feta and Spinach Frittata with a side salad or some fresh fruit to round out your Mediterranean brunch spread. Don't forget to garnish with some additional feta cheese and parsley for extra flavor.
3. Grilled Vegetable Platter
If you want to add some healthy and colorful options to your Mediterranean brunch menu, grilled vegetables are a great choice. You can choose vegetables like eggplant, zucchini, and peppers, and grill them to perfection. You can serve them on a platter and add some hummus or tzatziki dip on the side. Grilled vegetables not only add color to your brunch table but also provide a healthy option for your guests to indulge in. Plus, the fresh flavors complement the other Mediterranean-inspired dishes on the menu. So, fire up the grill and get ready to impress your friends and family with this delicious and healthy addition to your brunch spread.
4. Mediterranean Quiche
A Mediterranean inspired quiche is a perfect addition to any brunch spread. With its flaky crust and savory filling, it will surely impress your guests. To create a Mediterranean version of this classic dish, mix in some feta, olives, and sun-dried tomatoes into the filling. These ingredients will add a burst of flavor and color to the dish.
To make the quiche, start by making or purchasing a pie crust. Blind bake the crust for a few minutes so it doesn't get soggy from the filling. In a mixing bowl, whisk together eggs, milk, salt, pepper, and any other desired seasonings. Add in crumbled feta cheese, chopped olives, and chopped sun-dried tomatoes. Pour the mixture into the prepared crust and bake in the oven until the center is set and the crust is golden brown.
You can serve the quiche hot or at room temperature. It pairs well with a side salad or roasted vegetables to create a complete Mediterranean-inspired meal. Don't be afraid to get creative with the ingredients and add in your own favorite Mediterranean flavors.
5. Greek Yogurt Fruit Parfait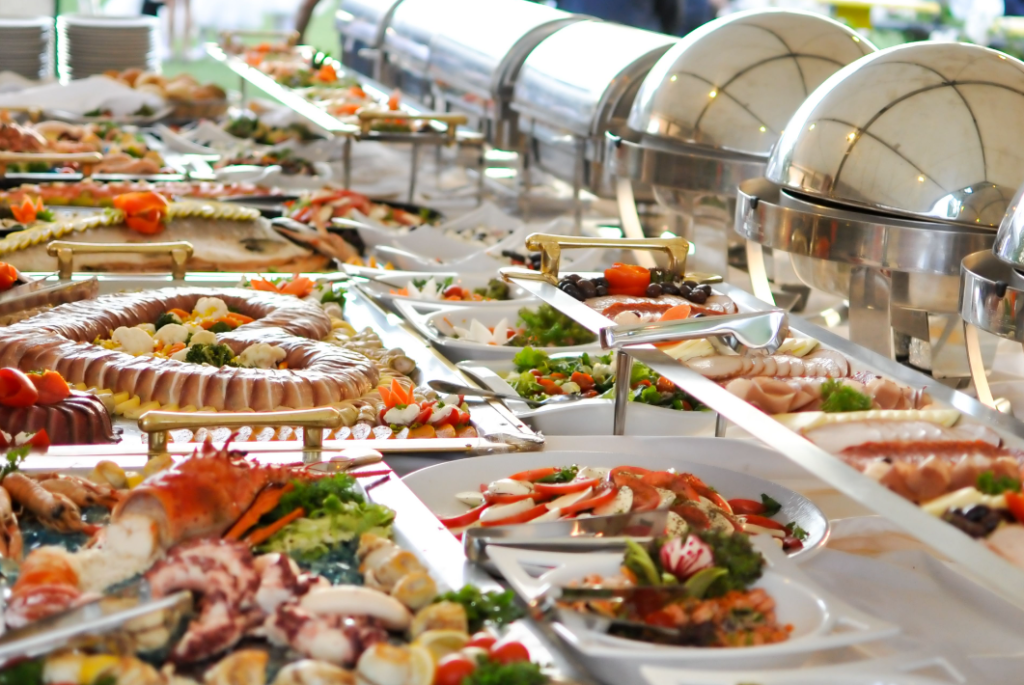 For a refreshing and healthy option at your Mediterranean-inspired brunch, consider serving Greek yogurt fruit parfait. Greek yogurt provides a creamy and protein-packed base for layers of fresh fruit, granola, and nuts. To add some extra Mediterranean flair, try drizzling some honey on top or mixing in some chopped dates or figs. You can also switch up the fruit depending on what's in season – berries, peaches, and tropical fruits all work well. For presentation, layer the ingredients in a clear glass or jar and serve with a long spoon. Your guests will appreciate the light and delicious option after indulging in the other savory dishes on the menu.
6. Baklava
Baklava is a dessert that has its roots in the Mediterranean and Middle Eastern regions. This sweet treat consists of layers of paper-thin phyllo dough filled with chopped nuts, honey, and spices. The dish is finished off with a drizzle of honey syrup on top. Baklava is a popular dessert in Mediterranean cuisine and can be found in nearly every Mediterranean restaurant.
When serving baklava as part of your Mediterranean brunch spread, consider cutting the pieces into small bite-sized portions to make it easy for your guests to enjoy. You can also garnish the dessert with fresh fruit, such as figs or pomegranate seeds, to add some color and extra sweetness.
To make baklava from scratch, you'll need to start by layering the phyllo dough, brushing each layer with melted butter.
For the filling, combine chopped nuts, such as pistachios or walnuts, with honey, sugar, and spices like cinnamon and cardamom.
Bake the baklava until it's golden brown and then pour the honey syrup over the top while it's still warm.
Whether you make it from scratch or buy it from a local bakery, baklava is a decadent and delicious way to finish off your Mediterranean brunch. Your friends and family will love this sweet treat and will be impressed with your culinary skills.